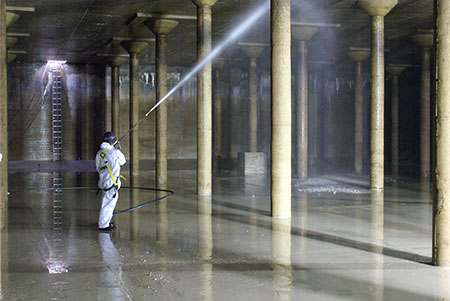 Cleaning the Systems that Keep Our Water Clean
Cleaning all parts of a water treatment system, whether your municipality uses pre-chlorination, chlorination, or re-chlorination solutions, is an important part of keeping your drinking water safe. Equipment such as flash mixers should be regularly cleaned to ensure they are working as efficiently as possible.
As part of our water treatment plant services, we offer disinfection and chlorination services, bringing plants back online according to American Water Works Association standards.
Over 40 Years of Local Experience
Jet Blast® has over 40 years of service in helping to keep taps flowing with as little downtime as possible. Chlorination and disinfection treatments are key in ensuring the population has access to clean, safe water. We truly care about making sure we do the best possible job when working with water treatment plants: we're a local company, we live here too. We don't cut corners with our families, so we don't cut corners with yours.
Call Today for an Estimate
At Jet Blast®, we provide more than your typical free estimate. As part of every estimate, we ensure:
One of our trained professionals will visit your job site.
We take measurements and/or quantities needed to perform the work.
We also take samples or material safety data sheets so we know exactly what we're dealing with.
We have a job discussion with you to ensure everyone is on the same page.
You get a tailored proposal and job specific quote.
We schedule services at your convenience.
And we always arrive on time and complete the service. This is usually within 24 hours of your call for our clients in need of emergency service.
Get service 24/7, 365 days a year.
We know how important it is to have a service provider you can trust to handle sudden issues with speed and professionalism. We pride ourselves in our ability to respond to any emergency call without compromising on the quality of the job.
This is doubly true when responding to municipalities because, as we stated, we live here too. We want to make sure systems are up and running again in as little time as possible while still keeping them safe. Call us today to get started.