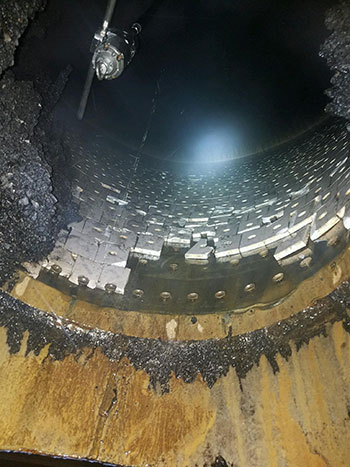 Getting your tanks back to 100% of their original capacity can be a game changer. At Jet Blast®, we can do exactly that: our water Jet Blasting technology, with up to 40,000 PSI, can scrub away years of buildup and deposits in any tank, leaving them clean and decontaminated, ready for the next load. Our large Industrial Wet/Dry Vacuum trucks can then remove any remaining liquid or dry debris & arrange for proper disposal.
Jet Blast® can handle cleaning almost any tank type of almost any contamination, buildup, or debris, including hazardous, viscous, or cemented-on materials. We can water Jet Blast at up to 40,000 PSI, easily powering through concrete to expose Rebar or removing coating and refractory from tanks. This can clean entire catch basins and scrubs off any buildup for a longer lasting clean. We also maintain a fleet of the latest Combo Vacuum/Water Jet Blasting & HYDROVAC TRUCKS to provide you with the most efficient & cost effective solution in the industry.
Whether you're looking to renew your tank capacity or prepare it for a new interior coating, we can help.

Put Safety First With No-Entry Cleaning
We can clean many tanks without the risk of putting a person inside the tank. This makes the process much safer and allows us to easily clean tanks that have stored materials hazardous to human health. Fuel and chemical tanks are often great candidates for this process. Transportation vessels storing things like cement, tar, and asphalt can also benefit from this technology.
In cases where we do need to put a person inside your tank for cleaning, you can rest assured knowing that each of our professionals are highly trained to OSHA standards for the field. This includes confined space entry, respiratory protection, hazard communication, and personal protective equipment fitting training.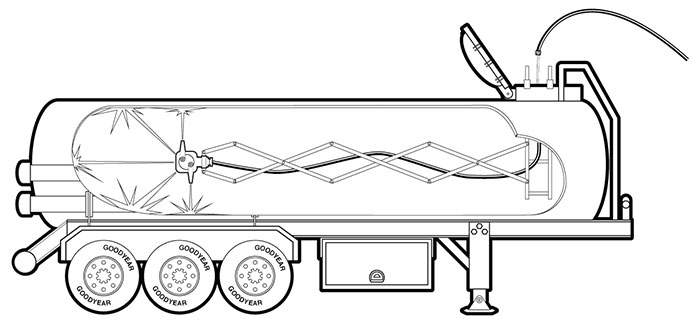 Selecting the Best Tools for the Job
We have a variety of Jet Blasting nozzles we use depending on your tank's needs. In addition to our no-entry varieties, we have semi-automated & automated 3D nozzles specific to different material types and surface curvatures. We pride ourselves in always having the best tool for the job, allowing us to provide exceptionally high value with our services. Our heavy duty Industrial Wet/Dry Vacuum trucks can then remove any remaining liquid or dry debris & arrange for proper disposal.
Emergency Service Whenever Emergencies Happen
Contact Us Today to Schedule a Free Estimate
At Jet Blast®, we provide more than your typical free estimate. As part of every estimate, we ensure:
One of our trained professionals will visit your job site.
We take measurements and/or quantities needed to perform the work.
We also take samples or material safety data sheets so we know exactly what we're dealing with.
We have a job discussion with you to ensure everyone is on the same page.
You get a tailored proposal and job specific quote.
We schedule services at your convenience.
And we always arrive on time and complete the service. This is usually within 24 hours of your call for our clients in need of emergency service.
Contact us now to get started on your project and get your tanks back in service with as little downtime as possible!