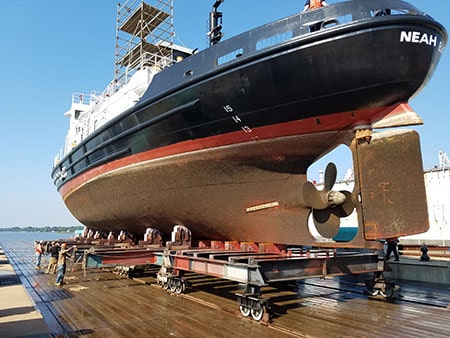 Water Jet Blasting is extremely versatile and can cover most parts of a ship when cleaning. We go beyond standard power washing and offer a range of applications designed to clean your ship from bow to stern.
The Right Tool for the Job
Water Jet Blasting is no longer limited to basic spray nozzles, and the range of applications it can handle has increased. We have a variety of Specialty Water Jet Blast Accessories to get the job done.
On ship decks, we use our Hydro Mower Rotary Surface Cleaner and Scarifier to strip the surface down for refinishing. With 40,000 PSI and 36 inches of coverage per pass, it makes quick work of anything it passes over. It can also be used on the shipyard itself to remove striping from asphalt or concrete or cleaning caked on grime.
We also have tools designed for concrete and boiler refractory removal, both of which are often needed to keep ships in shape.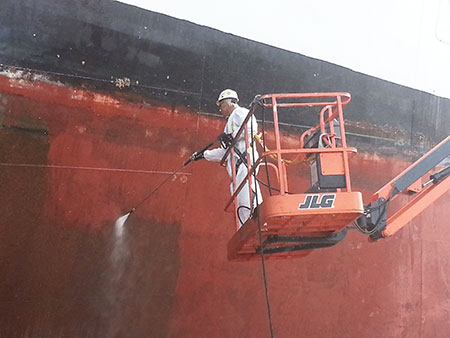 We Make Clearing Everything from Rust and Barnacles to Hazardous Fuel Tanks Easy
Water Jet Blasting and wet/dry vacuuming can cover most cleaning, decontamination, and resurfacing needs a ship will face in its lifetime. Water pressure of up to 40,000 PSI makes quick work of encrusted hulls and can leave them with a "white metal" finish. Our specially trained professionals also have experience cleaning internal pipes, boilers, hallways, and rooms depending on the ship's needs.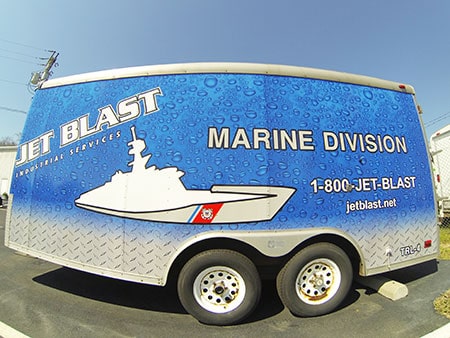 No Entry Tank Cleaning Options
Putting a person inside of a fuel tank is hazardous. Our staff are all trained on confined space entry and other aspects of cleaning these tanks, but sometimes it simply isn't necessary to take that risk. We have no entry tank cleaning options, including semi-automated & automated 3D water Jet Blasting nozzles, available that may be a great fit for your ship, saving you time and money.
Contact Us Today to Schedule a Free Estimate
At Jet Blast®, we provide more than your typical free estimate. As part of every estimate, we ensure:
One of our trained professionals will visit your job site.
We take measurements and/or quantities needed to perform the work.
We also take samples or material safety data sheets so we know exactly what we're dealing with.
We have a job discussion with you to ensure everyone is on the same page.
You get a tailored proposal and job specific quote.
We schedule services at your convenience.
And we always arrive on time and complete the service. This is usually within 24 hours of your call for our clients in need of emergency service.
Get service 24/7, 365 days a year.
We know how important it is to have a service provider you can trust to handle sudden issues with speed and professionalism. We pride ourselves in our ability to respond to any emergency call without skimping on the quality of the job. Call us now so we can send an expert to your emergency immediately.