Water Jet Blasting Up to 40,000 PSI

Watch a Video of 40,000 psi Paint Removal Using Hydro Mower
Experience
Trust our over 40 years of experience with high-pressure water and our use of the latest equipment for any of your cleaning needs to be performed quickly and cost effectively. Do you have unique or difficult cleaning problems? Bring it to us! We can develop automated or semi-automated cleaning machinery or procedures specifically tailored to your needs. When it comes to innovations, Jet Blast® Industrial Services is a leader in its field. With several U.S. patents on proprietary cleaning tools and processes, Jet Blast® starts where the competition ends.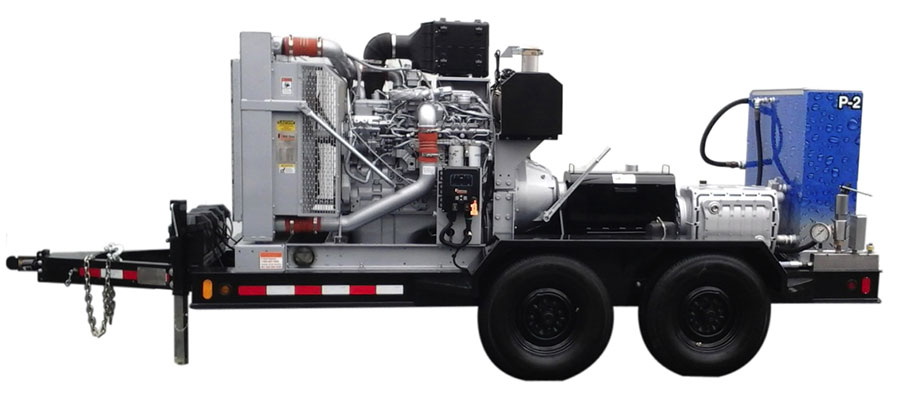 High-Pressure Water Jet Blasting
Jet Blast® Industrial Services uses high-pressure water up to 40,000 PSI, and volumes up to 300 GPM, for cosmetic cleaning or removing unwanted fouling deposits. Its great power and versatility make water jet blasting an excellent solution to many cleaning problems. Water Jet Blasting can be used safely even in potentially volatile environments without harming base material. In the hands of our expert personnel, water jet blasting can be used to clean the hardest deposits without damaging equipment. Water jet blasting can be used alone or in combination with other industrial cleaning techniques. It is especially effective where chemicals would be difficult or impossible to use due to equipment configurations, metallurgy, economics, or other reasons. Jet Blast® Industrial Services has a complete line of water jet blasting equipment to fit any application and to match equipment to the job for faster, safer, cleaner processes.
More on Water Jet Blasting
Surface Preparation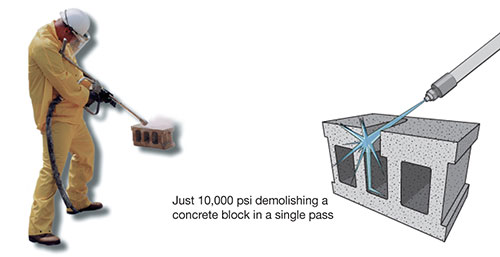 Water jet blasting with 20,000-40,000 psi can give a "white metal" finish and is a cost saving alternative to grit blasting. There is no sand to clean up, no sand to dispose of, production rates that are more than comparable to sand blasting and a finish that provides better adhesion of paints and coatings. Did you know that water jet blasting with 20,000-40,000 psi can replace jackhammers and other standard percussion tools for the successful demolition of concrete and other hard materials? We can demolish wide areas with our Hydro-Mower, scarify, expose aggregate and expose rebar. Not sure if water blasting is your answer? Call us and discuss your needs, we are water jet blasting experts.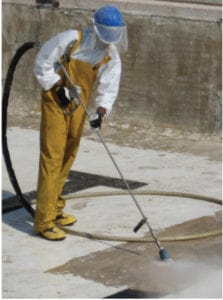 Pressure Up to 40,000 PSI
As an example, a mere 10,000 psi water jet blast can demolish a concrete block in a single pass. Now imagine the cleaning power of 40,000 psi? Jet Blast® Industrial Services has the capability to operate at 40,000 psi. We have the ability to accomplish any cleaning task.
An Alternate to Grit Blasting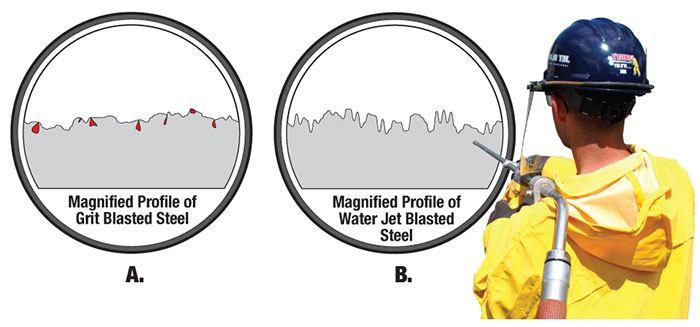 A. Visually grit blasted surfaces appear clean and acceptable for coating applications; however, upon microscopic inspection, the profiles on grit blasted surfaces are smoother and the surface profiles are peened and rolled over, often encapsulating salts in cavities within the metal's profile. Salts hamper coating adhesion and lead to premature coating failure. B. Water jet blasting meets the SC-2 standard for removal of soluble salts. Using pressures up to 40,000 psi, rust, rubber and other speciality coatings are thoroughly removed without the drawbacks of conventional grit blasting. Cleaned surfaces meet or exceed the following industry standards: WJ-1 (White Metal) specification of NACE No. 5 and SSPC-SP-12 & SIS Sa 3.
Fast and Large Coverage with Water Jet Blasting

40,000 psi Rotary Water Jet head in action, notice the white metal finish it provides. The Rotary head cuts standard swathes of 3-6" in a single pass.
No Entry Tank Cleaning

Vessel & Tank 3D Nozzle®
Jet Blast® Industrial Services offers "no entry" vessel cleaning. There is no hazard to life entry. VESSEL & TANK 3D rotating nozzle allows to never send a man inside of your tank, vessel or confined space. Utilizing water jet pressures up to 15,000 psi, we remove the toughest materials completely without ever entering the tank. Do you have a hazardous vessel or tank you need cleaned and do not want to risk human life? Call us to discuss "no entry" tank cleaning and its options.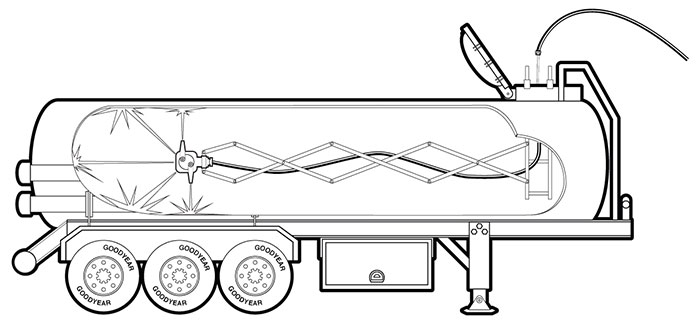 Specialty Water Jet Blast Accessories
Hydro-Mower Rotary Surface Cleaner & Scarifier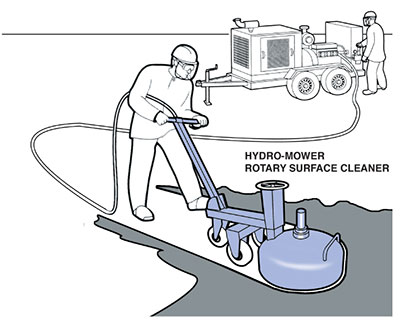 This unit is ideal for those jobs requiring a machine with the power of high pressure water, and the maneuverability of a sleek, light weight mower. In automotive paint booths, the Hydro-Mower is perfect for cleaning grates, and easily modified for use on buggies and conveyors. Airport runways are well served by the Hydro-Mower for removal of striping, expansion joints, rubber, and is ideal for the removal of striping on public highways, and private parking lots. The Hydro-Mower can easily handle any concrete scarification or light demolition projects and is ideal for ship deck surface preparation. Operates with pressures up to 35,000 psi and cuts up to a 36" swath.
Concrete and Boiler Refractory Removal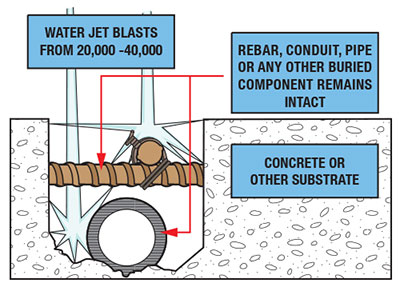 Water jet blasting up to 40,000 psi is simply the best way available to remove concrete and boiler refractory. Surfaces and reinforcement underneath concrete or boiler refractory are cleaned and prepared to bond saving you time and money. Water jet blasting also provides virtually damage free removal compared to standard percussion jack-hammer methods.
Rotary Tube & Pipe Cleaning Nozzle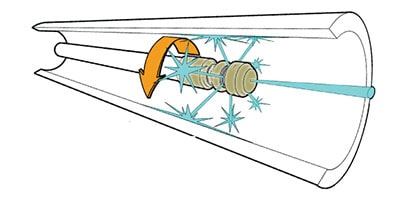 This self propelled unit with rotating side jets rotating up to 100,000 rpm, completely eliminates build-up on the interior of critical pipe and tube walls. In situations like condenser or evaporator cleaning, an increase in productivity will be realized because tubes can be cleaned in a single pass. Operates with pressures up to 40,000 psi and can be used on any diameter or length pipe.
Rotary Surface Cleaning Nozzle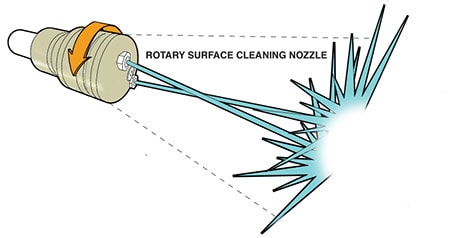 This handheld unit with two rotating straight pattern jets will penetrate the toughest deposits and blast it away leaving a streak free surface. Operates with pressures from 3000-40,000 psi and cuts a swath up to 6" in diameter.