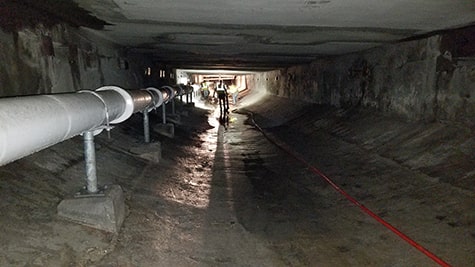 Most people understand the importance of keeping our reservoirs clean, but few understand how it is done. With more and more reservoirs moving to underground tanks to comply with new EPA standards, keeping these reservoirs clean differs from cleaning a water treatment plant itself. Most reservoirs use gravity to their advantage to filter out heavy materials and contaminants, but what happens when too much materials collects at the bottom of the reservoir? That's where we come in.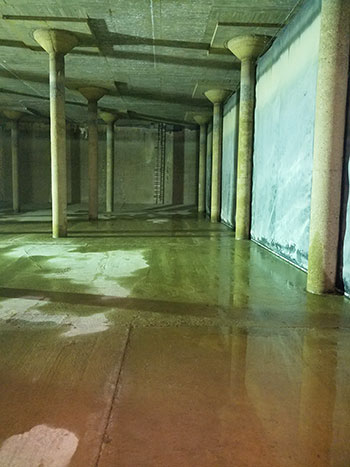 Jet Blast® services every part of municipal water systems from tanks to filtration systems to distribution systems. Reservoirs are no exception. We use our water Jet Blasting and industrial vacuums to efficiently clear away contaminants from mineral deposits to organic growth.
Once a reservoir has been emptied, it's a race against time to get it operational again. The longer a tank stays empty, the more loss there is to the structural integrity of the tank. Emptying a tank is a huge process in and of itself, so our goal is to clean and decontaminate the tank as quickly as possible without risking missing any material. When cleaning organic growth such as algae, it is important to eliminate all of it in one go, preventing sudden regrowth in the future.
Cleaning the Complete System
At Jet Blast®, we also clean entire water treatment systems to EPA and AWWA standards. For more information on these services, please visit the Water Treatment Plants page here.
The Process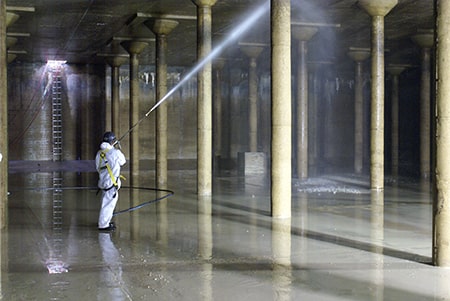 When cleaning reservoirs, we use our water Jet Blasting to make quick work of tank walls. Spraying up to 40,000 PSI, Jet Blasting can return metal tank walls to a "white metal" finish, powering through even the hardest and most viscous stuck-on materials. Though capable of destroying a concrete block in a single pass, we carefully calibrate our nozzles and pressure to fit each individual tank. This ensures we never damage a reservoir and always get the best possible clean.
We also disinfect and chlorinate reservoirs to American Water Works Association standards and work with individual municipalities to ensure needs for each individual reservoir are met. Our goal is to get in, clean, vacuum debris, disinfect, and return the tank to regular operation as quickly as possible. Clear communication on the process and standards for each reservoir are key to succeeding.
Call Today for an Estimate
At Jet Blast®, we provide more than your typical free estimate. As part of every estimate, we ensure:
One of our trained professionals will visit your job site.
We take measurements and/or quantities needed to perform the work.
We also take samples or material safety data sheets so we know exactly what we're dealing with.
We have a job discussion with you to ensure everyone is on the same page.
You get a tailored proposal and job specific quote.
We schedule services at your convenience.
And we always arrive on time and complete the service. This is usually within 24 hours of your call for our clients in need of emergency service.
Emergency Service Available
Although it is rare that reservoirs are taken offline for unscheduled or unexpected cleaning, it does happen. If you need a tried and tested local company to respond to an emergency, call us. We have staff standing by 24/7, 365 days a year ready to serve you.