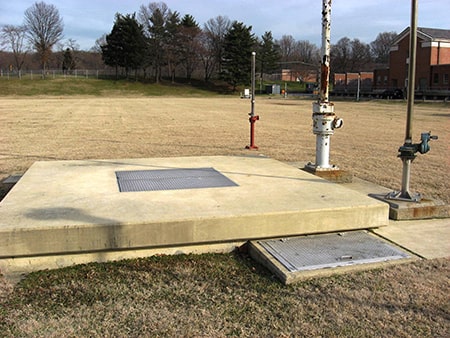 We make quick work of access points in need of cleaning by making sure we always have the best equipment for the job operated by our well-trained staff.
Cleaning/Vacuum Combo Unit
Perfect for manhole cleaning, this piece of equipment handles cleaning and scouring surfaces simultaneously with vacuuming debris and heavy materials. A specially fitted hose equipped with a water Jet Blast nozzle is inserted into the sewer to clean and scour the pipe walls back to 100% capacity. Water flushes any heavy materials back into the manhole where our industrial wet vacuum sucks it up. We finish by Jet Blasting the manhole itself, ensuring a total clean finish.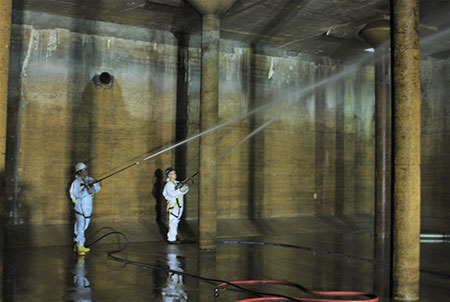 Utility Vaults
We're able to clean just about every type of vault no matter the shape, size, or system. Our arsenal of Jet Blast nozzles and extensions let us reach areas that can be overlooked by alternative methods. This lets us service everything from sewer and stormwater vaults to ones installed for trash servicing.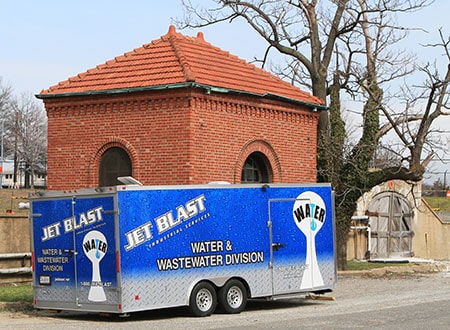 Jet Blast® is Powered by Water, Making it Safe for the Environment
Our Jet Blast system cleans by using high pressure water to scour a surface. With forces up to 40,000 PSI and flows up to 300 GPM, we're able to remove the vast majority of buildup and contaminants with water alone. This makes the process safe for cleaning environmentally sensitive areas like culverts.
Make Jet Blast® Part of Your Service Plan
At Jet Blast®, we provide more than your typical free estimate. As part of every estimate, we ensure:
One of our trained professionals will visit your job site.
We take measurements and/or quantities needed to perform the work.
We also take samples or material safety data sheets so we know exactly what we're dealing with.
We have a job discussion with you to ensure everyone is on the same page.
You get a tailored proposal and job specific quote.
We schedule services at your convenience.
And we always arrive on time and complete the service. This is usually within 24 hours of your call for our clients in need of emergency service.
Get service 24/7, 365 days a year.
We know how important it is to have a service provider you can trust to handle sudden issues with speed and professionalism. We pride ourselves in our ability to respond to any emergency call without compromising on the quality of the job. Call us today to get started.