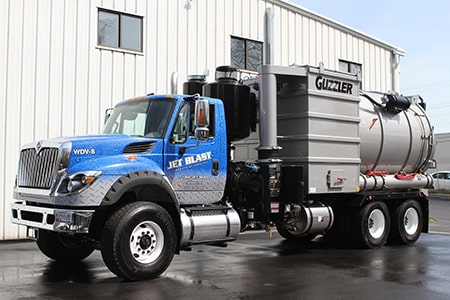 When you have a powerful mess, you need a powerful vacuum to clean it up. Our industrial vacuuming services can clean just about any mess, whether you need dust-free cleaning or have a tar spill in need of remedy. With both wet and dry vacuuming capacity, our vacuum trucks can always help. Sludge and other viscous materials are perfectly fine to remove with our equipment, making them much easier to remove than with traditional methods.
We have liquid vacuum trucks in our fleet, allowing us to remove the full range of municipal and industrial liquid waste types. These trucks pneumatically remove waste so it can be conventionally dumped or loaded into appropriate disposal containers.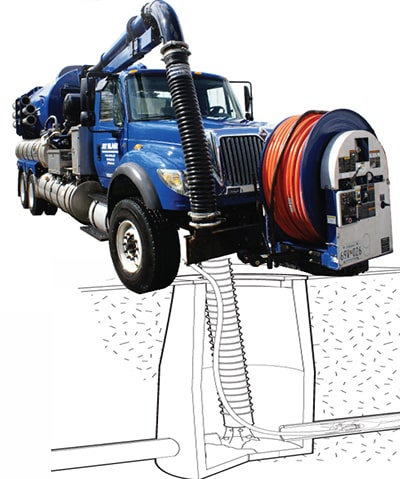 Cleaning/Vacuum Combo Unit
If you're looking for efficient sewer cleaning that combines our water Jet Blast technology with our ability to vacuum viscous liquids and debris simultaneously, we have the service for you. Our Sewer Cleaning/Vacuum Combo Unit uses a high-pressure, fitted hose to Jet Blast away blockages in sewer pipes and clean the sides of the pipes down to the bare walls. As the hose is withdrawn, water flushes the sewer clean. Any heavy materials flow into the manhole where our vacuum is waiting to suck it up. We also jet down the manhole itself to complete the full cleaning operation.
These vehicles can be positioned right next to or above a manhole and have fully articulating hoses and vacuum booms, making them less obstructive than some other operations.
A Powerful Filtration System
Our fleet of heavy-duty industrial vacuum & combo trucks come standard with multi-stage filtration systems making them an environmentally safe option for cleanup operations. The material goes through an initial cyclonic ring drop out into the 17 cubic yard debris body, then any airborne particles go through a series of mini cyclones, then into the fully functional bag house (with blow downs to prevent bag blinding) and finally a fine mesh inlet strainer ensures any ambient discharge into the environment down to one micron. HEPA filters can be fitted to our vacuum trucks for your asbestos, lead, or any other environmentally critical cleaning needs.
What Can We Handle?
Just about everything. Here's a list of the material types we've got covered:
Acids
Asphalt
Bricks
Black Beauty
Caustics
Cement Dust
Dirt
Digester Sludge
Fly Ash (Hot or Cold)
Granules
Grains
Gravel
Grit
Heavy Sludge
Liquids
Liquors
Molecular Sieves
Mud
Oils
Ore
Resins
Rock Wool
Sand
Sediments
Slag
Slurries
Solvents
Tower Packing
Tar
Water
Not seeing what you want cleared on the list? Call us. We'll send one of our professionals out to your job site to give you a free, in-depth assessment of what the work you need done would entail.
Every assessment and estimate includes…
One of our trained professionals visiting your job site.
Taking measurements and or quantities needed to perform the work.
Taking samples or material safety data sheets so we know exactly what we're dealing with.
Having a job discussion with you to ensure everyone is on the same page.
You get a tailored proposal and job specific quote.
We schedule services at your convenience.
And we always arrive on time and complete the service. This is usually within 24 hours of your call for our clients in need of emergency service.
Specialty Liquid and Dry Containment
Auger Off Loading
Allows the transfer of recyclable material, wet or dry, to containers, super sacks, or any other vessel of your choice. Transfers are done safely and efficiently without leaving the job site.
Power Drumming
Convey material, wet or dry, hundreds of feet away from our vacuum trucks and into 55-gallon drums, ready to be sealed. Power drumming is excellent for containment of hazardous waste spills or product recovery.
Pneumatic Off Loading
Conveys materials, wet or dry, hundreds of feet away from our vacuum trucks up and into silos, or any other vessel you desire.
Emergencies, Covered
We know how important it is to have a service provider you can trust to handle sudden issues with speed and professionalism. We pride ourselves in our ability to respond to any emergency call without skimping on the quality of the job. Call us now so we can send an expert to your emergency immediately.
Call Now to Schedule a Free Estimate
We look forward to working with you to ensure whatever you need cleared is done right the first time.