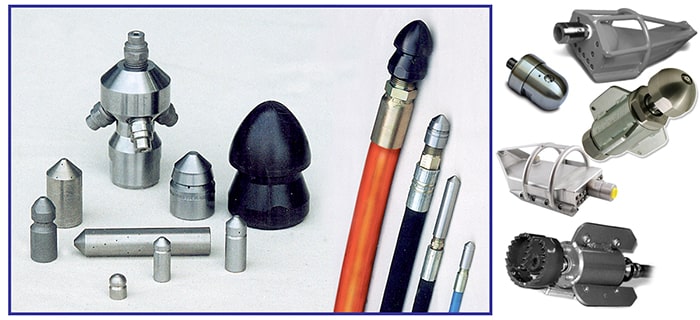 Backed up pipes can take a stinky situation from bad to worse fast. When you need reliable, value focused professionals fast, we're here for you.
Your Professionals for Municipal Sewer Main Cleaning
At Jet Blast®, we're experts in tricky-to-clean sludge, grime, and hard deposit blockages. We service any line of any size and material type and make quick work of blockages no matter the cause. With up to 35,000 PSI and flows of up to 300 GPM, we're able to blast through virtually any blockage, including materials like tar and cement.
Our trained sales professionals can identify the source of the problem quickly and efficiently, making any emergency work less of a headache for you. As part of our free estimates you get:
One of our trained professionals visiting your job site.
Taking measurements and or quantities needed to perform the work.
Taking samples or material safety data sheets so we know exactly what we're dealing with.
Having a job discussion with you to ensure everyone is on the same page.
You get a tailored proposal and job specific quote.
We schedule services at your convenience.
And we always arrive on time and complete the service. This is usually within 24 hours of your call for our clients in need of emergency service.

Hard Materials are No Challenge for our Jet Blast Industrial Services
No need to throw away tube & bundle configurations that are blocked with grout and cement. We've successfully cleaned Tube Side, Shell Side, Small Tubes, Big Tubes, "U" Tubes, Long Tubes, Short Tubes and Spiral Exchangers, saving them from even the hardest materials and extending their lifespan and efficiency.
Jet Blast Returns Your Pipes to 100% of Their Original Capacity
Unlike traditional augers, water Jet Blast® can return a pipe to 100% of its original capacity by simultaneously clearing a blockage and scrubbing the pipe walls down. While traditional augers are limited by the size of the auger blade, our high pressure water expands to fit the pipe itself.

Any Size, Any Length, Any Line
When working on your blockage, we calculate the exact pressure needed to clear your blockage, damaging nothing in the process. This precision allows us to service any sewer main by choosing the right Jet Blast nozzle tip for the job.
Emergencies or Routine Cleanings
We have you covered. We operate and can service your job 24 hours a day, 365 days a year. Call us now to have an estimator at your location today!